July 2020 Newsletter
Note from the Editor
Editor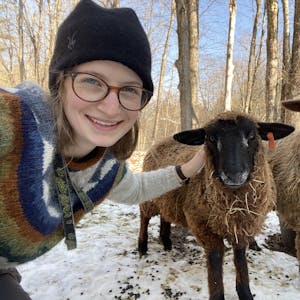 Amanda Kievet
Trail runner, wool mill owner, web developer, quote unquote farmer.
Article Collection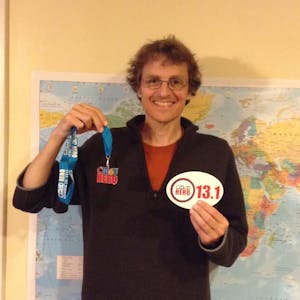 Geoff Dunbar
Former UVRC president, co newsletter editor, and UVRS coordinator.
Letter from a Board Member
Letter from Geoff Dunbar
By: Geoff Dunbar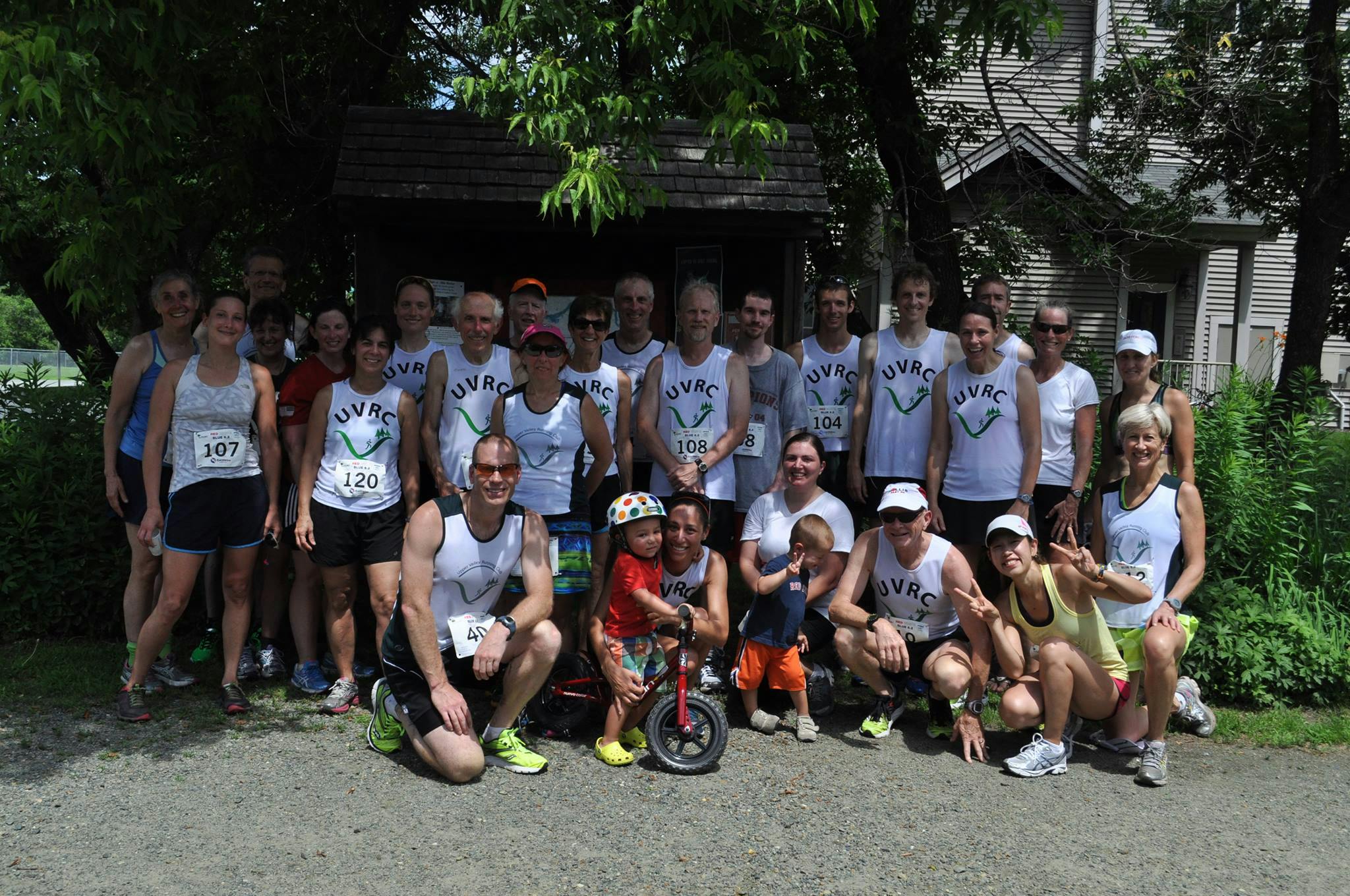 I'm writing this letter to you on July 4th. Happy Birthday America! I'll take this opportunity to look back on a memorable race experience, the inaugural Red, White and Blue 6.2. Back in 2013, UVRC member and Lebanon Recreation director Paul Coats decided to add this race to the local slate to celebrate the 4th.
For this first edition, the race started at 11am, leading into Independence Day festivities on the Lebanon Green. The festivities were nice, however weather was an issue. The day dawned warm and muggy, and got more so as the day progressed and the sun beat down. Off we went from in front of Lebanon Town Hall, down to the Rail Trail and out to Riverside Drive. There we went on Mill Road for a bit, out to about halfway through the race. I remember running pretty close to Laura Hagley for this portion; at the time we were pretty comparable runners, she was probably just a bit faster.
After the halfway point, we came back to the Rail Trail, and then a straight shot back to the finish line at the end of the Rail Trail. At this point the weather really nailed me; maybe also the effort of trying to stay close to Laura. My splits were 10-15 seconds slower on the return miles, despite the gentle downhill for those three miles. Needless to say, Laura ran smarter than me, and gradually disappeared into the distance. I finished in 39:56, 2nd in the 40-49 age group behind Rob Edson, and well behind Laura (first woman).
After the race, we got the race shirt, with a tie-dying station ready to go. I dyed mine red, white, and blue for the occasion, and you can still find me wearing it on a Fourth, many years later. It was a pretty brutal race with the weather, but a good time with many of my UVRC friends. More recent editions of the race moved to a more sensible start time, and I ran a respectable 38:09 the next year (2014). Sadly the race was cancelled this year (2020), but Nancy and I just returned from a nice run on the course.
Member Submission
Lone Runner Challenge - June 2020
By: Tim Smith
Some of our challenges this month struck a cord with clubs members, some were just hard, and some left us mystified, but with left us with pretty pictures.
I think my favorite photo of the month is from Laura, a view over the stern of her skull up the misty Connecticut River, a warmup before a run.
View from the Top
Alex Hall - "I ran in Lempster, NH, as part of my life long goal to run every town in New England (success rate yet to be determined). Cresting the hill on the aptly named Grandview Road I was greeted with a nice view across the valley to the Lempster wind farm. (Side Note: they host a race underneath the wind farm that I've yet to do, but sounds fun!)."
Robin Smith - (in Connecticut) - "Hamlet Hill"
Rob - " Invigorating weather change seems to make a difference with my heartrate."
Tim - "Rewarded myself by running up Upper Loveland to Maple Hill Rd. Then pleasant descent into Norwich on Union Village Rd."
Lydia -  "This run is about 1:20 away from the UV, but worth the drive for a rugged half marathon in the Whites. The route goes from the Kanc over the Osceolas (warning: 1.5 miles of super steep climbing), with excellent views into Waterville Valley. Run down Mt. Osceola which includes fun granite slabs. Cruise Tripoli Rd which is downhill and dirt. Enjoy 5 more trail miles along East Pond back to the Kanc. To complete the loop, you finish with a little over a mile on pavement."
Madeleine - "Just up the road on New Boston the views are dreamy but I forgot to take my phone for a photo!"
Cara - "I don't know if hiking is cheating, but it got me to the top of Cannon and the Kinsmans this weekend for some moody views! The snow and ice are rapidly melting in the Whites. I hope you can all get up there soon."
Flat And Fast
Alex - "This is probably one of the best June weekends for a long run I'll see in my lifetime! No heat, no humidity! My watch clocked in a staggering 49 ft of climb over 14+ miles on the Northern Rail Trail in Boscawen. Hopefully Tim doesn't deduct too many points for my lack of an interval or tempo effort."
Geoff -  "I wanted a tempo with soft surface today, so I found the only trail in the Upper Valley that might actually be flatter and smoother than the Northern Rail Trail: the Mink Brook trail."
Timothy - "Found a bit of flatness on River Rd/Norwich and had fun spinning the wheels!"
Virtual Mount Washington
Geoff - "Enjoy this one without me, folks. I'd be surprised if I ran 4600ft of elevation gain in the past month, let alone one session!"
Alex Hall - "Strava logged in in just shy of 5,000 ft of vert for the week, in 5 runs and 37 miles. I explored both sides of Thetford Hill (roads and trails), did a long climb up Kerwin Hill/New Boston, and galloped across Oak Hill for a bit. I was impressed with what I managed to do against the heat this week. Ooff!"
Tim - "Over 3 days, I'll admit #2 was a hike."
Biathlon
Laura - "I rowed from Kendal on Lyme road, then ran flats on Lyme road."
Tim - "Biked to the Ompompanoosuc. Ran Campbell flats to Union Village, back on VT132. Then cycled to White River Junction to meet my wife!"
Geoff - "I rode to Sachem, ran up and around Boston Lot Lake, then rode back home."
Member Submission
Same Time, Next Year 
By: Judy Phillips
....Or, Virtual Challenge Accepted! 
July is a very big racing month for us. We typically do 2 per weekend, and the last week I try to find as many races as possible when we're off celebrating our anniversary. 
Summer racing really opens up this month, beginning with the large number of Independence Day races from which to choose. We love the Four on the 4th in York, Maine, but have also enjoyed the John Langhans Green Miles Road Race in Woodstock. The latter is a beautiful, challenging seven mile course, with which I'm sure many in the Club are familiar, as well as the Red, White & Blue 6.2 in Lebanon. 
Here are some other races to consider for next year: 
7/18 Stratham Fair Road Race - Stratham, NH 
This race has been 5.7 miles - I loved the odd distance - but this year the Race Director notified us after we registered that they were switching to a 10k, before they were forced to cancel. The organizers are exceptionally responsive to entrants. The course covers some beautiful neighborhoods and there is a nice hill as you head to the finish. You can stick around after and enjoy the country fair. 
7/25 Peaks Island Road Race - Peaks Island, ME 
My husband's first race, and it often falls on our anniversary, so this one has sentimental value. Peaks is an island off Portland, and you ferry over. The course is beautiful, the first mile along the ocean with stunning views of the rocky shores. The scent of beach roses is lovely as you move along the course, into neighborhoods. There are some hills in this five mile race. You can sign up for lunch for an additional fee afterwards or bring a cooler for a family picnic. The Lions Club offers an array of hearty options, including grilled steaks and chicken, a lobster boil and pasta as a vegetarian option. There are a few other lunch spots as you make your way to the ferry for the return to the mainland, as well as many excellent restaurants in Portland. 
7/26 Swan Island 10k & 5k - Swan Island, ME 
This will be a new one for us this year (I spoke to the Race Director: the race is on as of this date). It will be the fourth year it's held, and has changed distances, starting as a 5k, then adding the 10k option. It attracts a smaller field. Swan Island is a wildlife refuge accessible by canoe, kayak or ferry from the Richmond dock, across the Kennebec River. Richmond is approximately a 40 minute drive from Portland. The Island is 4 miles long, consisting of a gravel road and nature trails. Camping is permitted but not vehicles. According to the Race Director, the course has modest hills. 
7/28 Yankee Homecoming Road Race - Newburyport, MA (10 mile and 5k option) 
This is a big race and can be daunting if you are used to smaller fields. You run through neighborhoods and a downtown section in the quaint, historic town. The ten miler starts slightly after the 5k, and those runners are quite competitive and it's a bit of a challenge dodging elbows during the merge. There's a nice hill about a third of a mile before the finish. I'm really partial to evening races, and there are lots of choices during the summer. 
Run NH Challenge 
I'm in the midst of a big virtual race, so I've resisted all the offers to do scheduled races virtually so far....until this challenge. We love Millennium Running, as you've most likely gathered from my previous articles. This is an interesting challenge, and an opportunity to get creative running around NH and the border states. Plus I admit I was attracted by the bling! 
Member Submission
Inside the Workout: Specific Strength and Mobility
By: Carly Wynn
When we think of the pillars of training, what comes to mind? Mileage, intervals, nutrition, sleep… maybe some strength training or stretching. But how confident are you that your strength training form is optimal? Are your micro-movements forming a strong foundation? Do you think about training your nervous system, or the patterns of neural firing that power your stride? 
Not all training has to feel super strenuous, and the workout I'm advocating for today is not a killer, by any stretch.  Today's workouts focus is specific strength and mobility, and it's a session every runner should have in their plan.
In this workout, you'll take the time to focus on the movement of a single toe, and observe how your shoulders and back move as you breathe. This is the workout where you'll check in with a major muscle group and make sure it's engaging, because too many athletes don't even realize they are utilizing only a fraction of this muscle's power (yes, I'm talking about the glutes).
This is the workout where you'll learn what a stable core and neutral pelvis feel like, and you'll find and release tension in places you never knew you held it. You'll learn how to stretch the fascia on the bottoms of your feet (and believe you me, you'll find tension there!)
Not sure what exercises to add to your specific strength workout, or how to get started? Join us via Zoom on Friday evenings, and train together while we're apart. We'll tune into the feet, calves, glutes, hips, abs, lower back, pelvis, shoulders, and lungs. Moving slowly, we'll capture all the little details, and give some love to the connective tissue that makes running possible. 
Sessions meet on Zoom from 5-6 p.m. every Friday and are free for club members. First time-participants can register here to receive the Zoom link. 
If the current global circumstances have left you with some extra time on your hands, or perhaps have had the opposite effect and left you craving less intense workouts that can be done in your living room, now is a great time to focus on supporting your running with a strong foundation of strength and mobility.
Hope to see you on Fridays!
Carly
Member Submission
The Longest Days
By: Andrew Erickson
Summer. Blue skies. Deep warmth. Breathtaking views. Laughter, smiles, joy. The carefree, intoxicating aroma of life lived fully.
In full swing now, the summer months in the Upper Valley came upon us quickly and with little time for adjustment, but they are cherished by everyone in unique ways, offering new opportunities and a sense of a fresh beginning. In New England, it could be argued that we hold a deeper appreciation for this time of year more than others because of the long expanses of winter we know are always in store: a time that can be equally as beautiful, yet dark, lonely and cold. In the depths of January we long for the crisp green views of the mountain ranges to the east and west, the scent of lush wildflowers in the air, and the slight tang of growing and budding vegetation on our tongues.
As runners, we hold and understand a deeper connection than most to nature and all it has to offer, feel more deeply the beauty as we traverse ridgelines, bushwhack trails, summit mountains, suffer on endless dirt roads. The experience of living to the fullest is at best an elusive idea in modern society, marred by constant worries about global issues, money, and what the future might hold. It is far too easy to become entombed within the overload of information that is constantly present in our days, so we find ways to cope. To let it go. To be one, to be free.
We find this freedom through distance running, and we find peace in the simplicity it brings to our lives. In nature, alone, we worry about nothing but the next step, the next hill, the completion of what we have set out to do. Appealing to our primal minds, running grounds us to a reality lost to many—the sense of being within ourselves, fully connected, in tune with our heart rate, breathing, mind, body. Without the experience of these moments, we lose a small piece of our humanity and our capacity to simply experience an experience, which can be a difficult concept for many to grasp. Athletes, however, understand it well, and it puts us a level above those who have been unfortunate to never feel the senses that running, mountain biking, hiking, climbing—and a long list of other activities—gives us.
Don't undervalue the gift we have in our lives. Cherish it, use it, enjoy it. Running will always be there for you, in the best and worst times. It has the capacity to tear us down to the deepest layers of our soul, but also to lift us to impossible highs. Remember what it has done for you, what it means to you, how it has changed your life for the better. We owe running so much, the least that we can do is keep going out the door in the morning, ready to create something new and amazing.
In difficult times, where outcomes of the future may be uncertain and scary, find solace and serenity in the next step, the next mile, the next run. Peace is a commodity that has deep value in today's world; do not squander what small amount you are given. Out on the trail, the road, and everywhere in between, we will find beauty in simplicity, simplicity in movement.
To all the members of this community, and to anyone else who may read this, enjoy your summer to the fullest. Find time to let the sun warm you, listen to birds sing, and lay eyes on the breathtaking views the Upper Valley has to offer. And of course, find the time to run, because even a minute run brings us closer to what we seek from this life.
Route of the Month
ROTM: Dutton Hill
By: Laura Petto
Route Name: Dutton Hill
https://www.strava.com/routes/2709462122607227300
Route Distance: 3.67 miles from Huntley Meadows
Parking: Huntley Meadows (Pizza Kitchen variation)
Elevation: 481 ft
Terrain Type: 70% Dirt, 30% Paved
Description: This is a very challenging climb! However, the view at the top is very spectacular, after you go up the connector trail. Start at Huntley Meadows, head to Bragg, but take Dutton instead. It's an almost all uphill road – however, the grade is varied so you have some breaks between the steepest parts. Running down Bragg is easier on the legs, as it's not as steep downhill. I like this run because it is short and challenging, but really good views for all the struggle. It's also mainly dirt, with the only pavement on Beaver Meadow and Turnpike. 
Variations: Park at the Pizza Oven, at the bottom of Bragg, right near the start of Dutton. But this means you start going straight up hill!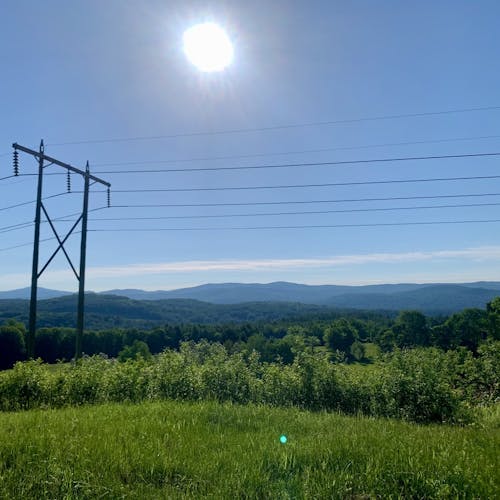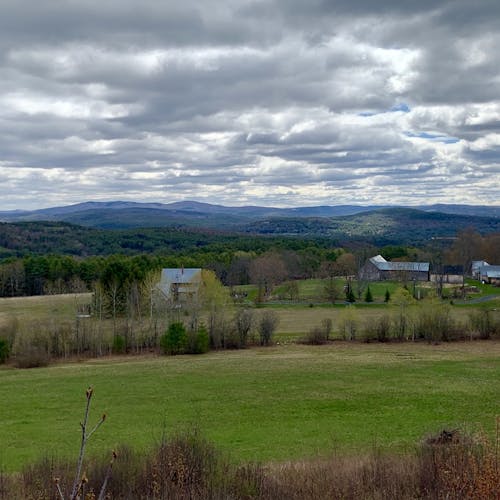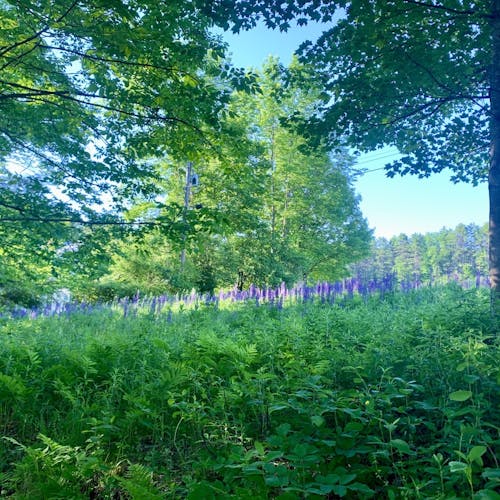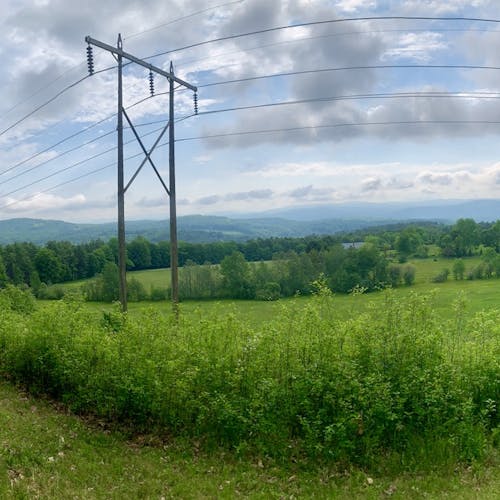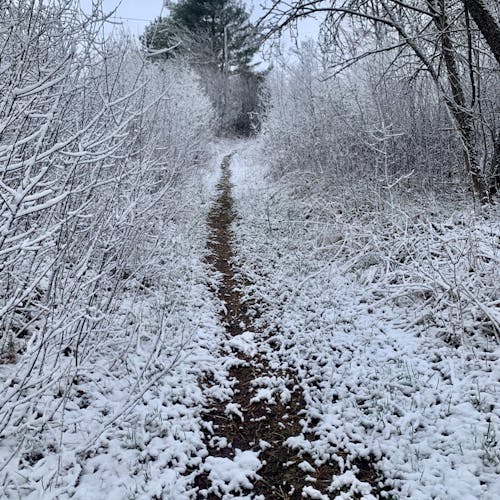 Runner Profile
Carly Wynn
By: Scott King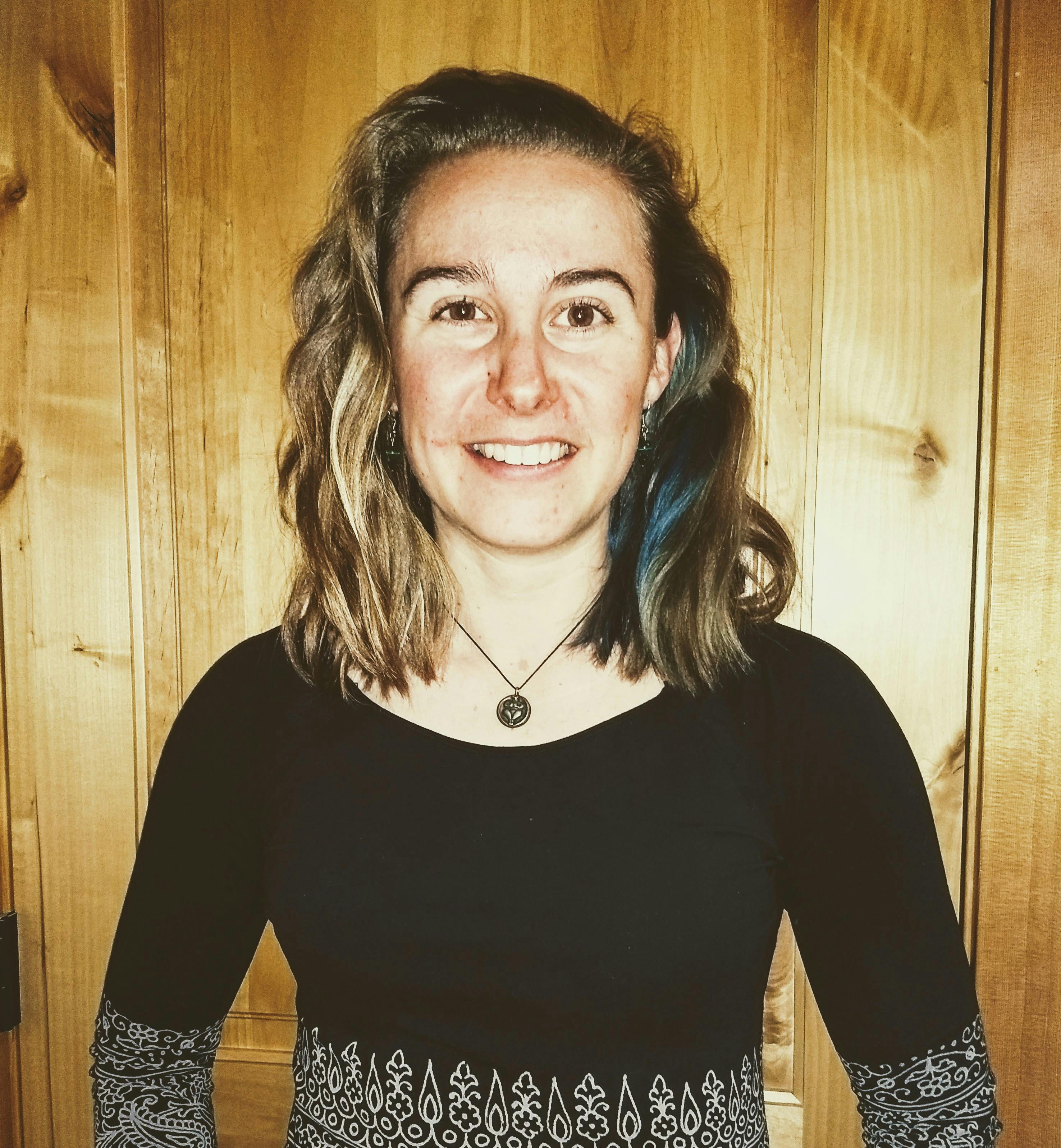 Name: Carly Wynn
Where are you from originally and what brought you to this area? I came to the Upper Valley in 2011 from upstate NY to attend Dartmouth. I have not been here continually since graduating, but I consider the UV to be my "home base."
What do you do professionally? I'm an endurance coach specializing in training plan design and training support for runners and Nordic skiers. I work remotely with most of my athletes and do in-person work with local clubs and teams. I am also a semi-pro cross country skier. This means I compete on the U.S. domestic pro circuit and have some sponsorship to help cover the costs of coaching and equipment, but I work to pay my life expenses. 
How long have you been running? I started actively "training" when I was in elementary school, raced competitively in high school, and have enjoyed running as my favorite form of cross training for skiing since 2010. 
How long have you been running competitively? My most serious competitive years were 2007-2010, but I still race, it's just a back-burner priority to skiing. At the point when my focus on skiing winds down, I plan to return to a competitive running focus.
Why do you run? There's something so simple about running; something linear and pure. I travel often, and I love that I can run anywhere. Compared with a sport like Nordic skiing, running is logistically straightforward. Yet none of that captures that feeling of a really good run... I've had a lot of great days skiing in my life, but the best running days are still the best days, period. 
Recent memorable moment while running? I'm coming back from a very serious systemic condition that destroyed my mitochondria and left me unable to train for 18 months. I finished my longest long run in 4.5 years last week, and I don't think I've ever been so proud of a workout!
Best athletic accomplishment and why? Crawling out from the hole of depression and anxiety that elite level competition had led me into. By the time I graduated from college in 2015, I was mentally and physically fried. But a year later, I'd taken care of myself on both fronts, learned enormous lessons, and was able to return to competition and love it in a way I never had before. 
If you like to race, favorite race distance? Why? 5k. Nothing hurts like a 5k. 
If you like to race, notable race moment? OR most memorable race? I like to say that when I'm done with ski racing, I'm coming back for my high school 5k PR, which I set on a cross country course as a freshman in 2007 (I never ran track). This was a highlight-able moment not only for the PR and the long-standing goal it has set for me, but also for the mental victory of spraining my ankle during the race and finishing anyway. 
Training partners? Do we still have training partners in a pandemic? 
Cross training activities? Well, running sort of is cross training for me. But I mix it up as much as possible. I pound the pavement at least once a week, but I like trails, and mountain running is my favorite. I'll also bring the poles out for some ski-walking, and yes, I'm one of those Crazies you see on rollerskis. Also a big fan of mountain biking, a lesser fan of road riding, and can be found grumpily in the pool sometimes. In the non-endurance world, I'm a huge rock climber, a yogi, and a gymnast. I believe in diversifying my training!
Favorite local running route? Does a Presidential Traverse count as local?
Favorite post run treat? Ice cream. Also favorite pre-run treat, mid-run treat, and anytime treat. 
Strangest place ever run? On a minor highway outside of Prague in the middle of the night while wearing a dress. This was an accident. I got off at the wrong bus stop due to a minor language-barrier kerfuffle. But I did run about 5 miles.
Any notable streaks or other unusual running events? I don't know if this is what you mean by "streaks," but my Dartmouth teammates and I did once run naked through a ski village in Canada. 
What made you start running? Parents ran, I gave it a try, I won a race among my 3rd grade class, I was hooked. General love of movement and testing myself has been a constant ever since
Who is your running "idol"? I've always gravitated toward the unconventional. I admire runners who think outside the box, try things a different way, or make comebacks against the odds. 
The only running shoe for me is Saucony Kinvara. Loved the Saucony Nomads too for trails until they were discontinued... Any technical trail shoe suggestions? (I like 4-8 mm drop and no rock plate, fyi)
Ever been injured? How did it happen? Yup. Partial rupture of my achilles tendon in June of 2017 during a hill-bounding workout. I'd recently come off Lyme disease, and within a year and a half would be suffering from aforementioned mitochondria issue, which means my return to running this spring is the first time I've run consistently since fall of 2016. Stoke is high right now!
Hot or cold weather runner?  Is anyone a hot weather runner?
Morning or evening runner? Morning! Oh man, I am useless after 4 p.m.
Favorite running book/film? Once A Runner, by John L. Parker Jr. and its sequel, Again to Carthage. A cult classic if ever there was one.
What does your daily workout consist of? Varies a lot per time of year, and is different now while I regain fitness than it was a couple years ago. But you can bet at least one day a week is off. Big fan of off days. Some workouts are about aerobic adaptation, some strength, some restorative/mobility exercises. Most days will have two sessions. Oh, and as a skier, I think in time and heart rate data, not miles, for the most part. 
How about favorite work out? Stick me on some rugged mountain trails for 5 hours at 18 minute miles pace. Alternatively, a favorite intensity session is "Over/Unders," alternating pace between just over and just under lactate threshold. It's as hard psychologically as it is physically. 
What is your diet like? Intuitive, or it tries to be. Eating has not always come naturally to me, and I've had to learn the right balance between thinking about it and not thinking about it. I do not personally follow any structured diet, though I am a bit maniacal about eating protein with every meal and snack.  
If you could run with anyone, who would be the person? I'm a bit obsessed with Mary Cain right now, who I raced against in high school and whose story has been dominating running news media lately. Her struggle and process of recovery really resonate with me. 
Aside from running, what are your hobbies? Creative writing, cooking, meditation, guitar, and most recently, singing, a hobby I picked up while I couldn't train. If anyone is a voice coach, I will trade endurance coaching for vocal training!
What else should the club know about you? You can find my writing in the Ask the Coaches Column, and I write about a lot of things, including travel, training, and racing, and creative projects on my blog. That's also where you'll find more info about my coaching. (www.CarlyOutside.com) I'm currently teaching a UVRC Zoom class on Friday nights focusing on restorative exercises, specific strength, and mobility. It's not a killer, it's a comfy session, so come join us! It's free for club members. 
Ask the Coaches
What do other runners eat?
Got a question for the coaches? Send it to newsletter@uppervalleyrunningclub.org and I'll send it on!
Since Working from from a lot more, I've been fortunate to make more time to up my weekly mileage. I have also been using Strava more and noticed that there are a lot of club members who run 50+ miles a week. What do other runners eat? I like cooking and eating and snacks but looking for advice on adapting eating to changing mileage.
— Madeleine Bothe
Laura Hagley
Okay, so....I know you're asking the coaches, but I have a coach myself for this.  Nearly 10 years ago, Dr. Laleh changed my nutrition for life, and therefore a key component of what helped me get to Olympic Trials.  Her plan changed my body, my running, recovery, and energy in life. https://www.drlaleh.com/  
I run about 90-100 miles per week now, and labs have gotten better and better over the years. I love to cook, there's plenty of variety, and all available from our Upper Valley neighborhood.
Okay, off my excited Laleh soap box...:)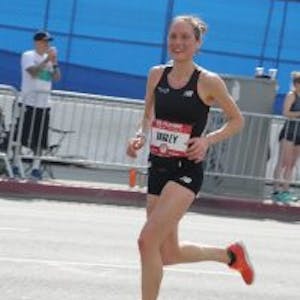 Laura Hagley
Laura Hagley, DPT, CSCS, EP-C runs competitively for Millennium Running Club. She placed 25th at 2016 Olympic Trials, and competed in the Elite Women's Wave of the 2016 Boston Marathon. Professionally, Laura is the Director of Ancillary Services and Physical Therapist at Valley Regional Hospital in Claremont, NH. For questions, please email laura.hagley@vrh.org.
Dorcas DenHartog
Dear Madeleine, 
It's great that you have more opportunities to run! 
The visual of an 'Athlete's Plate' illustrates both the nutrition science and my own experience with increasing and decreasing activity levels. 
Our protein needs stay the same whether we're exercising Easy (resting for a race or stuck behind the desk working on a big project), or Hard - (lots of time to play outside or volume with intensity block of a marathon training plan). It's about 1/4 of your plate for three meals a day. 
Easy training 
1/4 plate lean, happy-life animal protein or complementary protein combinations of grains, legumes, dairy
1/2 plate is, as fresh and unadulterated as possible, veggies and fruit!
1/4 (or less if you're in a weight management phase) is whole grains. 
1 teaspoon healthy fats
Then, as your activity level increases to
Moderate training
1/4 plate protein - remains the same
1/3 plate grains - carbohydrates increase
1/3 plate veggies - veggies slightly decrease
1 tablespoon healthy fats 
Hard training
 1/4 plate protein -remains the same
1/2 plate grains - your body is burning carbs!
1/4 plate veggies - decreases to make room for whole-grain carbs
2 tablespoons health fats (to fuel your long-distance runs when you're training your body to burn fat preferentially- you need to give it fat to burn!)
Notice how the amount of healthy fats increases. It is important to include access to their essential fatty acids because they are just that - essential! 
These visuals help me anytime I make a snack, too. 
Easy: 5 day, 60hour/week workweek? snack on cruciferous veggies with cottage cheese (I add some curry powder, maybe some raisins and almonds)
Moderate: Weekend warrior/ weeklong vacation of awesome adventures? apple slices, almond butter, honey (I've got a sweet tooth) sandwich on whole-grain bread.
Hard: mixed whole-grain granola with oat beverage or milk and almonds/walnuts/nuts or seeds of choice, dried or fresh fruit. 
I hope that helps!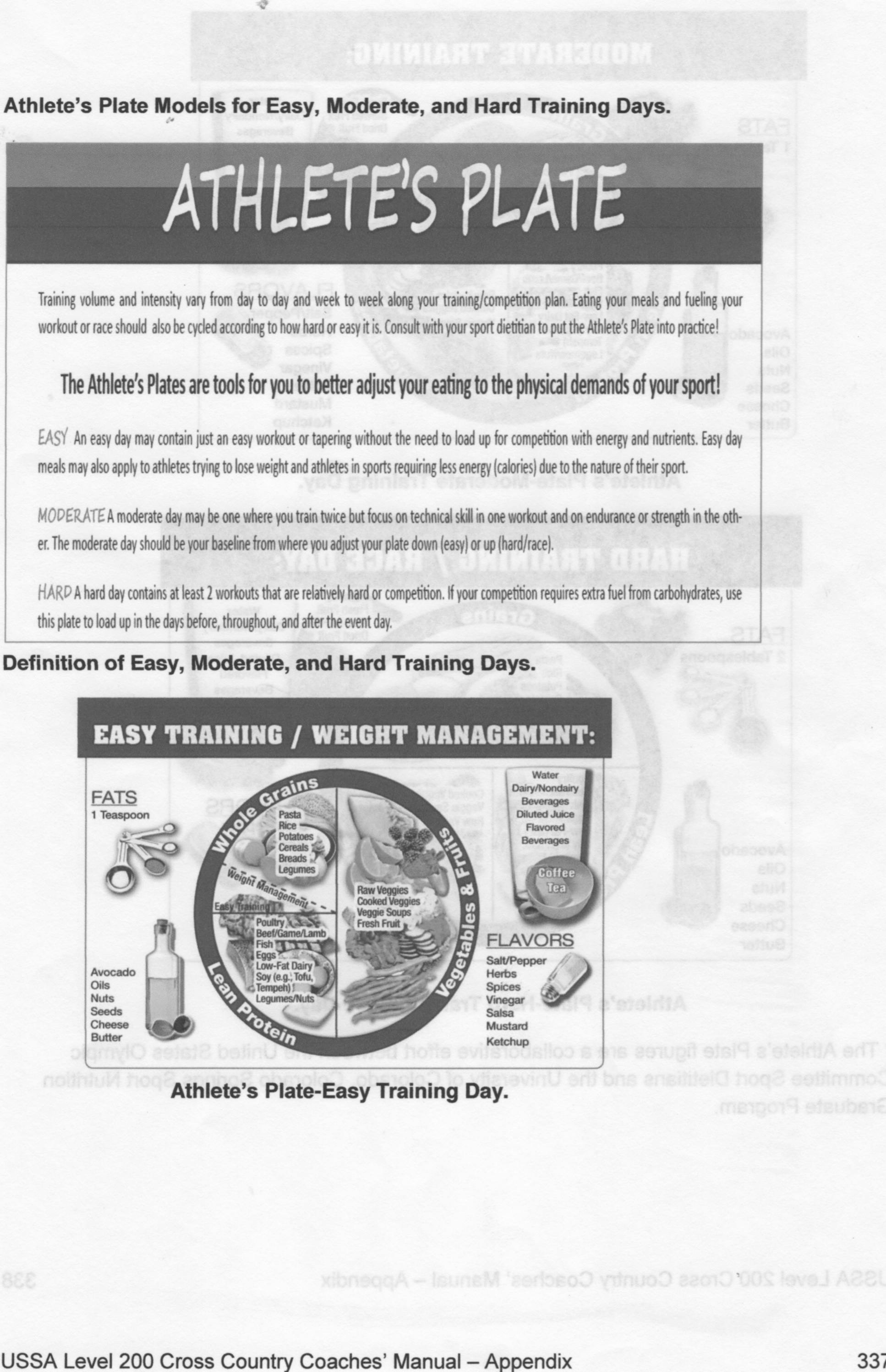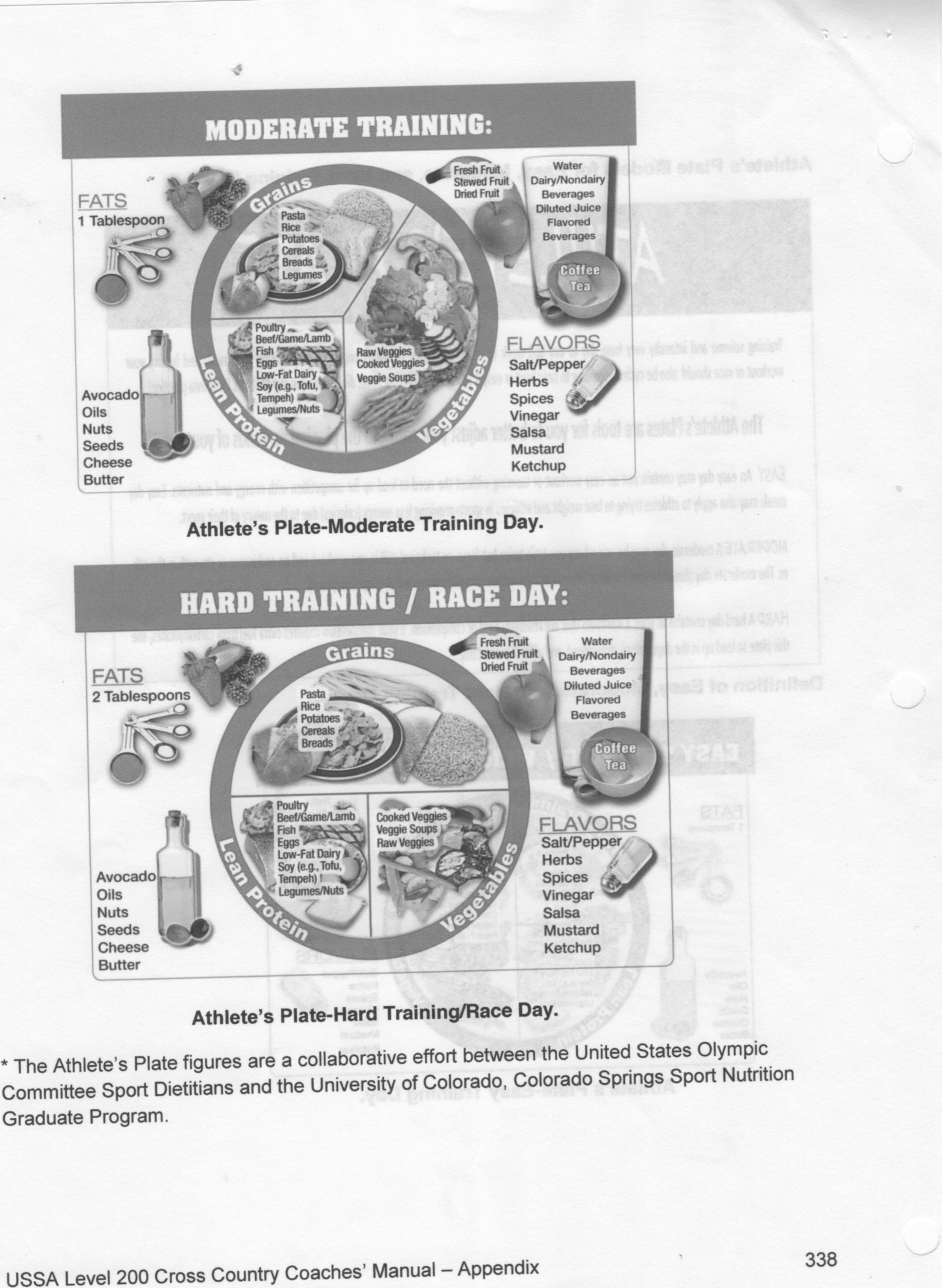 Dorcas DenHartog
Dorcas DenHartog coaches cross country running at Hanover High School and summer track for UVRC
Carly Wynn
So this is exciting because there are a lot of potential questions within this question.
First, I want to address Strava and mileage quickly, and just say that no athlete should feel they need to run more because they see other athletes running more. Likely that is not the case in this circumstance, but I could not resist the opportunity to preach that Strava can lead to a lot of competition in training, causing athletes to train too hard (in terms of both intensity and volume) as they try to keep up with or outdo their friends.
Okay, Strava speech over.
Another quick thing before we get to food: many athletes have the opportunity right now to increase training load (and correspondingly increase recovery), and if that's something you want to do while we're stuck in this odd state of partial closure, that's great! But take it slow. Don't try to fill all your free time right away with additional training, and make sure you have a goal (even a loose one) in mind as you begin to make any training changes. Just like any mileage build, you'll want to give the body time to adapt aerobically, and to help avoid overuse injuries.
The question about eating could be asking a few different things, and there are myriad ways to approach any one aspect. One end of the spectrum is very specific and custom nutritional planning, like working with Dr Laleh; another end takes an intuitive and more generalized approach, which I'm going to present.  Dorcas has outlined a middle ground of a specific macronutrient outline while leaving individual needs flexible or TBD. The following are some components of a general question about nutrition:
Specific nutrient needs. Laura has indicated a fantastic resource for athletes wanting to explore customizing their nutritional plan. Dorcas has laid out an overview of macronutrients (fat, protein, carbs) that is a great starting point if you don't need to dive as deeply as Dr. Laleh's work does. Elimination diets or something like Whole30 are a common DIY method for determining (or avoiding) intolerances or inflammation reactions to certain foods. There is no one piece of advice about micro and macronutrient needs that will improve everybody's diet.
Caloric needs. An athlete who increases training load will have higher caloric needs, if weight maintenance is desired, with, as Dorcas has said, different emphasis on different macros. Caloric needs often do not increase as much as it seems like they should. An athlete who doubles their mileage from 25 to 50, say, will absolutely NOT double their caloric needs, and intensity matters a great deal as well. Again, it's hard to say for any one athlete how many calories they burn in a workout. Furthermore, I do not condone calorie counting as an effective dietary determination strategy. I strongly encourage athletes to pay as much if not more attention to hunger cues and changes in weight or body composition as they do to nutritional rules, suggestions, and outlines. Notice your body's basic cues first, then, if you need it, seek further information to help you interpret and meet the body's requests.
Recipes? Maybe? I wasn't sure, but this question could also be asking for fun new recipes from athletes for athletes. Again, personal nutritional requirements are unlikely to be effectively addressed by any cookbook, although there are many recipe books written by athletes for athletes. Run Fast Eat Slow, The Athlete's Fix, and The Feed Zone are among popular books in this realm. I've thumbed through each of these three, and I will say one benefit of getting recipes from such a source is you can usually find information on why the athlete/author condones this particular recipe, and what specific need they think it meets. This can inform your own decision about filling your nutritional needs. As far as personal recipe suggestions, I have put a small handful of some of my recent food creations on a subset of my blog called Foodie Friday, but I'm not a food blogger, so bear with me.
Overall, as with training, make nutritional changes slowly. If what you're eating now is mostly working for you but you're finding yourself hungry as you add miles, then eat a little more of what you're already eating. Most of us probably stand to see improvements in some aspect of health by making dietary changes, so hopefully these answers have outlined a spectrum of approaches you could take to start making adjustments.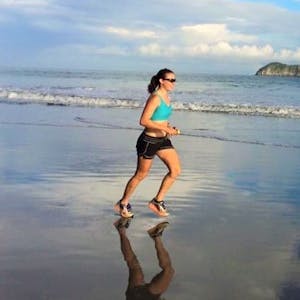 Member Submission
Finding Our Stride
By: Jenny Williams
Expanding youth running opportunities:
In 2010, Jenny Williams (UVRC member and former Dartmouth Cross Country runner) had been coaching middle school cross-country through the Norwich Recreation Department for several years.  Having been an XC and track runner in high school and college, she was well aware of the positive identity and improved self-esteem many young people develop through running. A family friend -  a single mom -  had a middle school aged son at the Indian River School in Enfield.  While his mom worked full-time, he often spent his after-school time alone, playing video games.  Williams wished there was a way for him to benefit from the joys of running with a team.
She reached out to Paul Coats, Lebanon Recreation Director, and his wife Kristen Coats – both avid runners and members of UVRC.  Through collaboration with Healthy Eating, Active Living (HEAL), the Mascoma School district, the Mascoma Valley Recreation Department, and In The Arena, Kristen and Jenny created a cross-country running team at IRS.  The first head coach was Ben True, nationally renowned cross-country, 5K and 10K runner and aspiring Olympian.  True was sponsored at that time by In The Arena, a national non-profit funding aspiring Olympic athletes, in exchange for 25+ hours per week of service in their local communities.  True coached the Indian River Tigers for three years, inspiring a tremendous following among his runners, many of whom still talk about his influence on them.  By 2014, True was sponsored by Saucony and traveling the world for races, so was unable to consistently coach the fall and spring seasons at IRS.  
Williams was seeking a way to expand the IRS model to other Upper Valley schools, but the challenge was finding coaches who could stay with a team for multiple seasons.  As she and Coats conferred with Sheila Powers, Principal of the White River School in WRJ, VT, they realized that teachers and para-professionals at each school would be wonderful coaches.  Powers stated, "Many of my students are experiencing huge challenges in their academic and personal lives.  I want them to spend after-school time with the same trusted adults who've seen them all day and all week."  
Thus Finding Our Stride (FOS), a FREE after-school running program for middle and elementary schools in the Upper Valley, was born.  
The program partners with schools where at least 30% of students receive free or reduced lunch, and aims to build not only fitness but also self-esteem and teamwork (connection to community).  The program is funded entirely through philanthropy, so there is no cost to the runners, families or schools. Coaches receive modest stipends.  In schools that already have a successful Girls On The Run program, FOS will offer a boys alternative.  Some schools opt to have a co-ed team.  Most programs serve either grades 2-5 or 6-8, but a few schools start as early as kindergarten.  The program serves a wide geographic area, going north to Woodsville NH and south to Claremont NH and Springfield VT.
Finding Our Stride received 501C3 non profit status in 2019, and is now operating in 24 UV schools.  Williams was joined in 2016 by Tara McGovern, whose background in the lobbying and non-profit world were perfect for her role as Program Director.  Each fall, all runners and coaches are encouraged to participate in the CHaD Hero.  In 2019, FOS had the largest team, with 465 runners raising over $45,000 for CHaD.  
Since 2015, UVRC members Rick Currier and Lori Bliss Hill have coached the Indian River Middle School team and achieved remarkable success and recognition for their athletes.  In 2019, the boys team won the NH State Cross Country meet, and for the last two years, roughly 10 members of the team have participated in the USATF National Junior Olympics XC Championships through the Granite State Flash team.  Amanda Isabelle, Mascoma Valley School Superintendent, knows the team first-hand through her two sons' participation.  She was so enthusiastic about the program that she wrote it into the district budget proposal for 2020-21.  The IRS team will now be funded by the district, and will continue to be coached by Currier and Bliss-Hill, and to collaborate with Finding Our Stride for the CHaD Hero.  
How do you manage an in-person after school running program in a pandemic? FOS offered its season virtually this spring, in spite of schools being closed. 18 of its 24 teams participated, with nearly 300 students from all over the Upper Valley joining their teammates in completing physical activities and team challenges.
"Losing extracurriculars and sports has been even more challenging for our usually busy kids, but the Finding Our Stride group gave incentives and motivation [that] might not have been [there] otherwise"," commented a Bradford Elementary School parent.
Each week, students were challenged to complete three workouts, one yoga routine, and one mindfulness exercise for the duration of the six-week season. Teams also competed against each other in weekly challenges, which included the average number of sit-ups a team could complete as well as the average length of time that team members could hold a plank. On Wednesday evenings at 7 p.m., all teams were encouraged to go outside and make as much noise as possible in a "Strider Sound Off" to recognize essential workers and health care providers.
 Coaches from each school contacted their team members each week for updates on their progress, and inquired about how they were coping with the challenges of remote learning.  Many coaches offered weekly online team meetings and completed workouts with their team. When asked about their favorite part of the season, a student from the Mount Lebanon School replied, "I liked seeing my classmates on Zoom."
 The parent of a Claremont Middle School student commented, "She has a new love of running.  Thanks for keeping her motivated during this remote learning phase.  This helped her tremendously, being connected."
 Each spring, Finding Our Stride teams usually participate in an athletic event to benefit a charity in their community. However, with all events canceled due to COVID-19, Finding Our Stride offered teams the opportunity to complete an event virtually. This season, teams joined with Positive Tracks in a 5k benefitting Feeding America, which raised enough funds for 12,190 meals for those struggling with food insecurity. Additionally, over 50 Finding Our Stride runners joined Cam Marshall of Lyme, NH in raising $2,915 for Best Buddies, the world's largest organization dedicated to ending the social, physical, and economic isolation of the 200 million people with intellectual and developmental disabilities. During the month of June, Finding Our Stride members are also participating in the Race to the Top of Wrights Mountain in Bradford Vermont to raise funds for the Bradford Conservation Commission.
 In an end of season survey, students reported the following outcomes:
67% of students were active 5 or more days a week
43% of students completed Finding Our Stride activities with their family members
85% of students reported maintaining or increasing their normal activity levels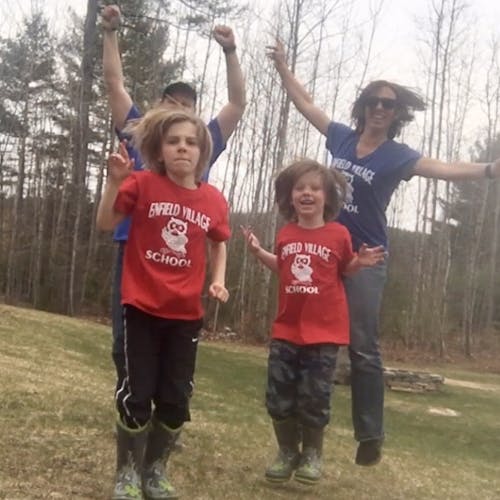 Eddie, Charlie, Vinnie and Nicole Tempel from the Enfield Village School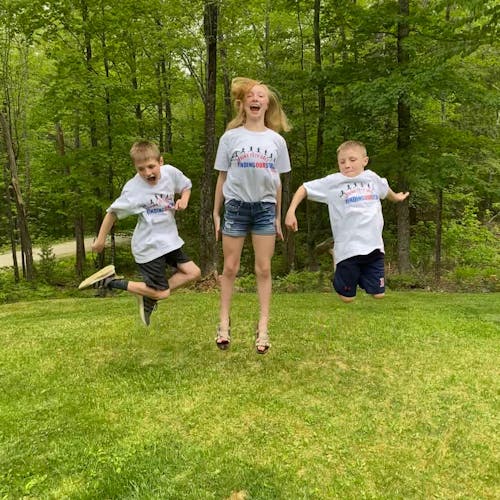 Kaden, Kylie, and Karson Rogers jump for joy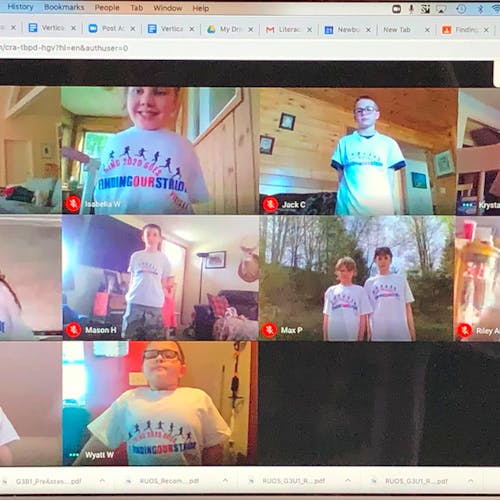 Virtual meeting of the Newbury Elementary School Finding Our Stride team